Week 1 Bottom 11 Roast: The Biggest Disappointments of a Delicious First Weekend
By: Adam Bross
Even with a week as immaculate as college football's first week, there is always enough embarrassment to go around.  Whether we have to find SEX-y losers, Big Ten debacles, or Kansas; we will always have teams that need to be roasted.  I present you these in no particular order starting with number 11:
#11 Rocky Topple, Tenn I See

Colin Cowherd picked you to win the SEC and make the College Football Playoff (to the system!), but that high praise and expectation were not enough for you to stay motivated against the greatest upset team in memory, Tennessee.  The Vols whiffed repeatedly against Appalachian State and came one lucky bounce away from clumsily staggering out of Neyland Stadium in a way only Michigan fans can appreciate.  Sure, this wasn't your grandfather's version of the Mountaineers, hell this is a FBS version of our favorite underdoges, but even knowing this team had received votes in the coaches' poll could not keep the Vols heads on straight.  I suppose the Rocky III route kept Tennessee in the victor's circle, but I don't know how many times I'd take punch after punch and just hope you get lucky in the end.  Also, I doubt even Clubber Lang managed a hit as breathtaking as the one above on Josh Dobbs.
#10 You Ess Sea
In the most terrific of fashions, Southern Cal turned a three point lead into a forty-six point defeat.  How?  With terrified faces and inept play-calling.  I doubt USC has ever walked into a game with as much bravado and walked out with more tail between its legs.  To say this game was a bloodbath insults the word because this was one of the cleaner, least painful dismantling of a formerly top tier program ever incurred.  I doubt a team has ever watched its chances slip away while looking less pained than the Trojans, but that's what happens when you're team is outclassed and out-coached.  The love Lane Kiffin must've made with his wife watching his former team utterly annihilated with offense more reminiscent of a tipping over carton of milk than a college football team loping around the sideline with looks of unmistakable confusion omnipresent.  All-in-all Things did not go well for USC.
#9 Fighting Mark Stoopses
2014, 2015, 2016, 2017 is the year Kentucky is finally going to breakthrough and become competitive in the limping SEX-iest Eastern Division.  This year, all it took was a game against Southern Mississippi and being outscored 0-27 in the second half of said game to finalize that this is not the year for Mark Stoops and his Wildcats to be even in the top half of an already flailing division.  Don't worry, Kentucky, the basketball season is only two months away.
#8 Buffed Uh Low

Terrible name puns aside, it was good looking out by the Buffalo Bulls, but no amount of looking out will replace the outrage of whether these are buffalo bulls or simply bulls from Buffalo.  The B.B.'s allowed FCS team Albany a victory on Friday night, leaving the audience stress free on Saturday.  Normally, the anxiety of waiting for the first FCS upset causes fans to forget or ignore the magnificence of the beginning of the college football season, but Buffalo went Craig Robinson for us and took one for the team so that we might enjoy thoroughly the best Week 1 in recent memory.  So thank you, Buffalo.
#7 Northwestern by Western Michigan
If the Wildcats had decided to hold down the fort in week 1, the Big Ten would have suffered only the thrashing of Rutgers in week 1 as a defeat, instead Northwestern decided to let the entire conference and their mothers down by losing to a Western Michigan team from a city whose name reminds readers of either the world's most annoying Flintstones character or the world's most annoying musical instrument.  There's not much worse than losing to a Michigan directional, but I suppose when you have two directions in your name already, there are bigger things to worry about than the football field.
#6 I-O-Wahhhhh State
The annual victory for Northern Iowa over an FBS team (seemingly) silenced a nearly capacity crowd of 60,629 in Ames.  I've always fancied Ames a land of upsets; however, I never assumed it would be Iowa State tripping over its feet onto its face into a feces pile of upset.  The Cyclones became the second Power 5 team to stumble against an FCS opponent this year, but with how Northern Iowa has performed over recent seasons and…well….how Iowa State has performed over recent seasons, can we really be surprised a stacked FCS team can defeat a horrific FBS one?  Also, a quote from December 2015: "Matt Campbell running off to let his career slide down the drain at Iowa State"
#5 Okla Homer
Too Little, Too Soon…er…or some other bad pun.  Oklahoma wrestled with the idea of a college football playoff (TO THE SYSTEM!) repeat, but decided that National Championships are for the birds (or the Bucks!!….or……yeah, Alabama).  Baker Mayfield looked steady, but the running game with Semaje Perine and Joe Mixon was stagnated and eventually invisible.  One of those high-flying spread teams, Oklahoma ran only 60 plays all afternoon and a lack of running game production likely made it easier to key in on Mayfield and the passing game.  Houston's defense is not known to be stout, but it held Oklahoma under 400 yards and only 22 points and the Sooners managed only 38 yards rushing outside of Mixon's 32 yard tuddy on the first score of the game.  The Sooners are all but eliminated from the playoff, looking into the Big-12 gauntlet for the remainder of the season.
#4 Warsh Ing Tun State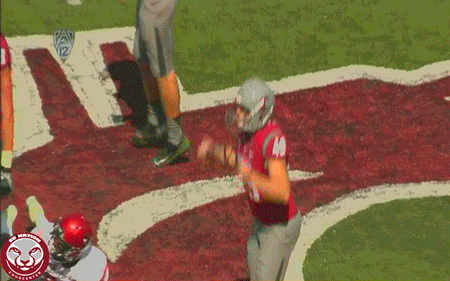 The Cougs welcomed rival Eastern Washington to Pullman for a friendly game of "How many passing yards can we accumulate", asnwer: 914.  Much like the game, the fireworks went the way of eastern as the Eagles out-aired Wazzu 496-418 and Mike Leach was left saying "Argh, matey" or whatever the hell pirates say these days.  Perhaps the Cougs can parlay an early season defeat against an FCS school (see 2015) into another above average season (see 2015) or finally the ship is sinking on the world's worst pirate.
#3 Virgin Ya!
Another entry, another Power Five team suffocating against an FCS opponent, but nothing stings more than losing to a team from your own state….wait, that's happened
in literally all four entries on this list….Serious shout outs to the little brothers for walking into the opening week madhouses and climaxing all over the faces of the dumbfounded big conference schools.  Now, no one is mistaking Virginia, Washington State, or Iowa State for solid teams like Alabama, Ohio State, or Houston (-_-), but these schools should be able to defend homefield against teams unanimously and objectively inferior in talent.  If this is not true (and feel free to correct me), then something has gone amiss in the world of college football.  I really just feel bad for the poor UVA guy who continues to live in infamy because of his team's incompetence.
#2 Miss A Sippy State
The SEX-iest Conference in America watched as the first week rolled by humdrumly with SEVEN teams of the fourteen losing week 1.  We know about the Fighting Mark Stoopses and Tennessee already, but perhaps even worse was what happened to the SEX-iest Western Division in the country…starting with Mississippi State.  The renowned Egg Bowlers are hanging onto any relevant joy they can after losing to Alabama South Alabama in a close contest.  The Panthers watched as Hail State's 28 yard, go-ahead field goal clink off the upright in Kyle Brotzman fashion to ensure a 21-20 win against the Cowbellers following Missy State taking a 17-0 and 20-7 lead in the game.  Woe.
#1 Lose I Anna State
It's no holds barred here at the top for the SEX-iest Conference's Western Division.  Louisiana State walked in suspected of being one of the nation's more talented teams and limped out missing two limbs and wearing an eyepatch following a staggering and humiliating loss against a Big Ten middleweight.  Perhaps (and I say this with four grains of salt), mayhaps Wisconsin is going to make noise and win the Big Ten (not really), but the Badgers certainly lack the size, speed, and talent of a Louisiana State, but the farmboys managed to push around a team picked around the country as the favorite in the SEX-iest Conference in America.  I'd be remiss if I failed to mention LSU continues its tradition and brand loyalty to awful Quarterback play surrounding a seemingly talent-rich team.  You might think Les Miles would forgo this embarrassing and mind-numbing stupidity, but so long as he keeps going 9-3, losing to Alabama, and keeping his job; then we'll just continue to focus on Ar-Kansas and eating gum off the turf while celebrating Columbus Day with our Italian friends.