Weekly 11 Bottom Roast, Week 5: Song….Song of the South (mostly)
By: Adam Bross
This week in our favorite roast of teams across America, we are hitting the southern states of America in one giant session of disapproving words.  When it comes to college football, nothing for the nation's "good" teams is worse than watching playoff dreams die…especially at the hands of a Hail Mary bomb.  I haven't had a feeling toward a play like that since Jaelen Strong was relevant before being stuffed into the back of the Texans' dry, hot attic like an old photo album or leg lamp.  With apologies to Ed Orgeron and Renegade the Appaloosa, let's begin this week's Bottom 11 Roast.
#11 Can Suss Jay Birds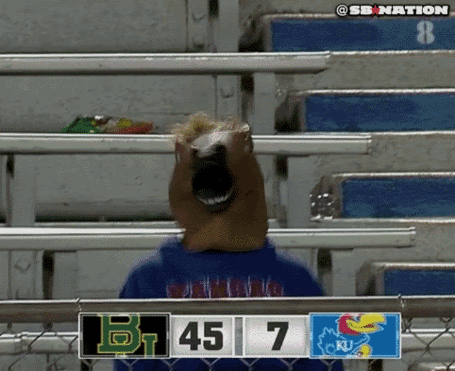 It's all fun and games until two different quarterbacks light up your secondary like Cuban cigar.  Sure, 42/55, 548 yards, and 8 touchdowns seems like a game possible for a Big-12 quarterback for Kansas's historically garbage team defense, but when those numbers are split nearly down the middle for two quarterbacks is when I get concerned that Charlie Weis is back on the sidelines or, even more likely, suiting up and jogging (very slowly) onto the field to try and guard the number 1 receiver of the opposing team.  I feel like I'm not making this clear enough: TEXAS TECH HAD TWO QUARTERBACKS THROW FOR MORE YARDS INDIVIDUALLY KANSAS DID IN THE GAME AND PATRICK MAHONE/NIC SHIMONEK (ps, stupid name) NEARLY EACH OUTPASSED THE ENTIRE JAYBIRDS OFFENSIVE PRODUCTION, MISSING BY ONLY 19 AND 25 RESPECTIVELY.  I don't want you to feel bad about your team, Kansas fans, I just want you to realize that your team is trying its best to make you understand what its like to be at a basketball first institution in the middle of the Dust Bowl.
#10 $Texas HHHOOORRRNNN HHHOOORRRNNN

Get it?  Long Horns?……So sorry to let you know, Texas, but you're just the newest and nicest (in terms of annual football income) team from the Big-12 to be officially (as opposed to theoretically) eliminated from playoff contention.  Normally, talking about joining the likes of Oklahoma, Texas Christian, and Iowa State would be a good thing (aside from the whole Iowa State thing), but this season it means you're just another team looking into a crystal ball rife with failure, disappointment, and non-New Year's Six Bowls.  Only one Big-12 team is making a New Year's Six, and that'll likely be the winner of Baylor-Oklahoma in a few weeks.  The Bears might be the conference's last hope and history tells us that you might as well start thinking "2017 is the Big 12's year for making noise".  I'll be honest, Texas, you have made noise all season.  Beating Notre Dame was loud and people took notice, but since then you've basically been a car alarm going off at 3 in the afternoon.
#9 You Tah You Tuzz
QUICK!! NAME THE TWO 2-0 TEAMS IN THE PAC-12….Time is up.  The answer is,
obviously, Washington int the North and Colorado in the South.  Just as we expected at the beginning of the season.  Throw in Apple Cup other Washington State and we have a trifecta of teams who were planned powerhouses when the first coin flipped in Australia. How exciting that the Pac-12 south might be decided in the last week of the season?  All those big end of the season rivalry games like USC-UCLA, the aforementioned Apple Cup, Oregon's Civil War, Arizona-Arizona State, and OF COURSE, the game I meant to be the decider of the South Division: Utah at Colorado.  That joke might've held more weight if Utah had done its job and beaten a constantly underwhelming Cal Berkeley program, but we'll settle for the Utes and Buffs beating each other around at season's end with only one conference loss between the two of them.  To finally get around to Utah's failure, its appropriate to mention Utah not only scored the least amount of points against Cal's maligned and atrocious defense this season, but they became only the second team to score under 40!  This is Kansas level defensive failure, but it was trumped by Utah's offensive ineptitude.
#8 Stay Tuh of Meesh Eh Gan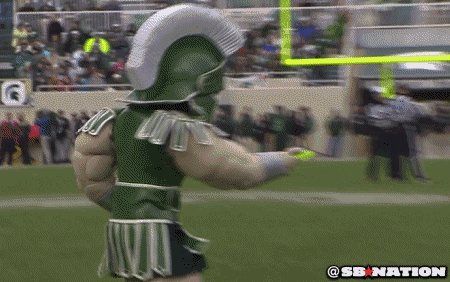 I know it was hard looking over your shoulder and seeing how you were embarrassed just last season.  No, that wasn't a typo, that was about getting blanked by Alabama in the playoff, only beating Iowa by 7, and having the devil incarnate as your starting quarterback.  All of these things are reasons to immediately take yourself out of playoff contention this season and fold up any pitched tents outside of Tampa, but you did not need to embarrass yourself at home against Wisconsin or LOSE TO INDIANA.  Seriously, who does that?  Indiana football is beating Ball State by ten and losing to Wake Forest.  It isn't upsetting Big Ten East big boys in Bloomington.  Say how evil Connor Cook was (owns a vast collection of human toes), the guy at least beat Indiana every year.  What really stings, what hurts more, Michigan State, is I know you're going to play your best game of the season against Ohio State.  I know the Buckeyes are going to arrive in East Lansing and struggle against a home team fired up and excited to ruin our season.  The agony of this knowledge is only supplemented by the knowledge that you're too awful to even beat Indiana.
#7 Organ Ducks
I don't want to know what an Organ Duck is.  It sounds like something to rest right between the killer clowns on the loose and Sqweegel for things I want to avoid thinking about while trying to fall asleep.  Also somewhere on the negative side of this continuum is losing three straight games to Nebraska, Colorado, and Washington State.  Oregon is a program on the decline which might be our annual 6-6 mystery team once its all said and done joining all of Charlie Weis's Notre Dame teams, Brady Hoke and Michigan, and Luke Fickell with Ohio State as teams unable to recover from a coach who really just doesn't know what he's gotten himself into.  Mark Helfrich finds himself in them murky water known as "shit, I'm going to get fired" after a few years of piggy-backing off of the success of predecessor Chip Kelly.  It reminds me of the Brady Hoke situation at Michigan: entering a season with a previous head coach's players and immediately finding success.  Now, with Chip Kelly and all his recruits gone, it is up to Helfrich to pick up the pieces of a lost season and somehow, some way save his skin in the rest of this and next season.
#6 Sans Dee Eggo Stay Tuh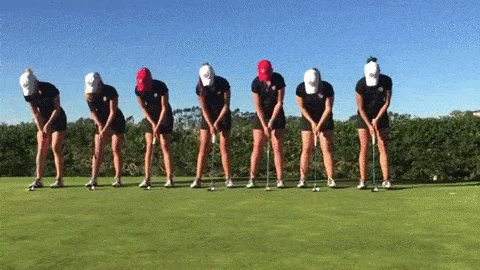 Without the Eggo, what's even the point?  Montezuma's revenge found itself stuck in neutral against Alabama.  Hold on….I'm getting something in my ear….oh……really?  No…..against South Alabama.  Amazingly, the South Alabama Jaguars have beaten Mississippi State and San Diego State while the other three games are losses to Georgia Southern and the Louisiana Lafayette Cajun Cajuns (duh) plus a win by one over the venerable Nicholls State (the same team which nearly upset Georgia, mind you).  The Aztecs, a team which went undefeated in conference last season and already boasts a win over Cal this season, is now 0-2 against South Alabama the last two seasons.  In other words, I have just as many wins as San Diego State the last two seasons against the Jags, despite having two less chances to pick up wins.  I've never had it happen, but I can imagine it hurts to have South Alabama outscore you 21-0 in the fourth quarter to lose by 18.
#5 Floor Duh Stay Tuh
What can I say that I already haven't, Florida State?  The Jameis Winston year put you intothe hatred spotlight and while your team has been actually likable since, your coach is a whimpering sack of vomit who loves every reporter who interviews him and failures to understand either humility or decency.  So, I still am not a huge fan of Florida State, but I'd never actively cheer for your season to be flushed into disappointment only four weeks after every started foaming at your feet following a comeback masterpiece against Ole Miss.  Now, you have losses to Louisville and North Carolina in conference without even having played Clemson yet.  You need to win out and have both Clemson and Louisville lose two games (assuming one of Clemson's loses is to you) to even smell an opportunity to make the ACC Championship Game.  Furthermore, I think your tradition with the spear is pretty awesome.  That appaloosa is gorgeous and having ridden horses as a summer career for the past few years, I really appreciate the ability to toss a large object into the ground using the momentum of your horse's rearing.
#4 Loo Uh Vill
You're still number 4 in the RT16, but you have to deal with getting placed in this article as well?  If not only because your coach is a gutless turd, but because your chances at a perfect season and making the playoff nearly went flying out the window and crushed by a house Wicked Witch of the East style (Nessa?  Oh Nessa, I have something to confess A reason why…) Louisville's vaunted defense allowed DeShaun Watson to go all Heisman gung-ho on them last weekend and the rest of the team were hapless by standers to 397 total yards and five throwing tuddies.  We never want to say it over and you know that I hate goodbyes, Louisville, but you need a fellow flapper in Oregon to beat Washington this weekend or else it might be a sunset and saddle sores for you.  Don't forget, another conference might stake a claim to two teams later this season (Michigan-Ohio State) and no one wants to get caught in front of those trains.
#3 Stan Ferd
Your mascot is a tree and your nickname is the Cardinal which references nothing more
than the color of your jersey.  Imagine if it was Michigan Maize or Ohio State Scarlet. While I admit both those sounds pretty nice, it gets a little tricky when you think of something like the Alabama Crimson….Tide?  Is Alabama promoting red tides and the death and decay these fish genocides bring?  The Florida Blue or Florida State Gold and the Georgia Tech…Gold.  See what I'm saying, Stanford?  You can't just start naming yourself after a color and no one is intimidated by a color.  The most intimidating color out there at this moment are those clowns who roam around the country terrifying women, children, and men.  Are you clowns, Stanford?  I'll admit, with the way you allowed Washington to probe your defense and suffocate you offense to the tune of a 44-6 obliteration, I might've thought you were clowning on me and my rankings.  Your Heisman candidate was a farcical nightmare and your season is now just shy of toilet status.  But, like….no pressure.
#2 Gee Orr Juh
I just flashed back to coach from homestar runner with his GEEEORGEEE Fruit.  Apparently that was supposed to be him saying Juicy Fruit, but I like to just stay out of these kinds of things.  Georgia…your season was meant to have promise and purpose.  You were preseason favorites in the SEC East (rankings-wise) and even beat North Carolina week 1 to help some hotties onto the hype train.  Since, you have squandered the gift of a high preseason ranking and an SEC team name.  Everything you ever needed to be nationally relevant was handed to you on a silver platter, but now, like so many before you, you are forced to watch as your former head coach has success in another state with another team and it just happens to be Miami.  I can't imagine being worse than Miami.  Truly bottom of the barrel levels there.  Not only that, but all your dreams of relevance died on a Hail Mary pass from Tennessee.  Tennessee for heavens sake!  A team who had become the laughing stock of the SEC East.  They had faded so far into irrelevance and even hired Lane Kiffen at one point.  Surely you wouldn't, Georgia….but then you did.  You took a big fat dump Between the Hedges and left it laying there on the field for your fans and maintenance staff to deal with.  Shame.
#1 Les Miles
I don't poke the bear because I expect to have my hand returned in full, I do it because what is Les Miles going to do if he finds out an entry level blogger wrote an article talking about his failures as a head coach (despite Les being the most attractive head coaching candidate to hit the open market since Urban Meyer (apologies to Jim Harbaugh,but were you ever really on the market?)).  Les, you eat grass and talk funny.  You sound like someone accidentally stepped on an antelope's toe and turned a blender on in the background.  You probably fart during press conferences too.  You're hilarious, don't misinterpret my affection, but your demeanor and charm has gone from funny to erratic and absurd so quickly it might as well be an Italian celebrating Columbus Day while venturing forth to find new lands in Ar-Kansas.  You've inspired so much off the field while inspiring so little on it.  Your teams have collapsed in the biggest moments and you haven't been a truly national threat since 2007.  You lost to a team you had already beaten in a National Title Game and you haven't beaten that team since.  You're interim head coach just went and kicked the doors down against Mizzeruh…which….to be fair is an okay win I suppose.  But it's more than you did against shitty Auburn and lackluster Wisconsin (that was for effect, Wisconsin, I know you're good).  You are called the mad hatter, but I've never once seen you make a hat or get mad.  Usually you just look confused and are chewing.  You have no idea how to recruit, develop, or aid a quarterback and the best one you've ever had is either a guy with the last name Mettenberger or the biggest bust in NFL draft history.  I'm just going to guess, Les, that you don't have many hobbies at home, but rather you spend most of your free time wondering if your next press conference should involve a joke or if you should keep quiet about LSU from 2013-2016.  P.S. I wish you good fortune in the jobs to come.