The Real Top 16: Houston is Still Good
By: Adam Bross
There are no rules which need establishing this week.  A picture has been painted of how we do things around here and that pretty little picture makes the college football rankings go round.  For anyone wondering, this week the Braintrust developed its rankings before any other poll; therefore, it is now abundantly clear we do not use these polls for our own basis; furthermore, the AP Poll sucks.
↑(NR) #16 Western Michigan, 6-0 (2-0, MAC)
Def. Northern Illinois 45-30
This weekend, Western Michigan became one of six teams to gain bowl eligibility.  Normally, this is a nice Week 9 or 10 accomplishment for Michigan Directionals, but the Broncos are shedding the weight of expectation and snipping opponents throughout the country.  There are currently 11 unbeaten teams in the FBS, but Western Michigan boasts a spread record rarely seen at this level; however, with three quality opponents on the schedule (Northwestern, Michigan Directional (C), and Georgia Southern), it should be surprising that the Broncs have been favorites in 5 contests this season.  At 5-1 against the spread (suffering its first spread defeat of the season), the Broncs look to spread rebound through the horrific MAC East before a date with Toledo and possible MAC bragging rights on November 25th.  If you were curious, Western Michigan will be televised on Tuesday night MAC-tion on November 1st and 8th coming out of the bye week in what is undeniably a professionally prepared schedule.  Completing what might be my favorite entry of the article, Western Michigan became the clear favorite in the MAC and (if Houston loses to Louisville AND Boise State drops a game this season), the boys from Kalamazoo are next in line for a spot as the Group of 5 representative in the New Year's Six Bowls.
↑(NR) #15 Virginia Tech Hokies, 4-1 (2-0, ACC)
Def. @ former #13 North Carolina 34-3
Virginia Tech successfully derailed my Mitch Trubinsky rally which gained steam from both ESPN and other media outlets following the release of last week's RT16.  Whether it was Va-Tech or Matthew who stopped the North Carolina quarterback is impossible to asset, but it seemed everything fumbled Virginia Tech's way this game.  The scoreline looks ugly, but considering the Hokies mustered those 34 points on only 264 yards should tell you something about how the rain hampered North Carolina in the absolute downpour rampaging through the state (if you watched any of either UNC or NC State's games against Virginia Tech or Notre Dame respectively, you'll notice both were swampy sideshows).  Regardless of weather, Virginia Tech has looked sound three straight weeks after the nightmare against Tennessee in the infamous BATTLE AT BRISTOL where five turnovers doomed the Hokies on a night where things were fumbling away from Va-Tech.  The new favorite in the Coastal (by virtue of record and no Clemson/Louisville/Florida State), Va-Tech rumbles into Syracuse this week riding an emotional and confidence high.
↑(15) #14 North Dakota State Bison, 5-0 (2-0, MVC)
Def. @ Mizzeruh State 27-3
It started ugly for the Bison in Springfield, Mizzeruh; which of course is not the capital of Mizzeruh, that would be Jefferson City.  Springfield, Mizzeruh is known as the "Queen of the Ozarks" and the "Birthplace of Route 66" which you might find surprising since the highway stretched not from Springfield, Mizzeruh to Los Angeles, but rather from Chicago, Illinois to Los Angeles.  The name is inspired from the little known tidbit that on April 30th, 1926, officials first proposed the famous route in Springfield, Mizzeruh. Anyway, the Bison recovered from an ugly fourth quarter to dominate the game 27-0 henceforth and held Mizzeruh State to a meager 176 yards in the contest.  The Bison proving they can win with both offense and defense in the early going makes them the de facto favorite (duh) to win yet another FCS Championship in a style of Division 1 domination thankfully absent (outside of Buhmuh's domination of the SEC, of course) from the FBS level of competition.  With five straight titles, the streak is nearing the length of North Dakota's streak against FBS teams (7 straight wins), but mathematics tells us those two streaks will never be equal so long as they are increasing at the same rate (1 per year).
↑(NR) #13 Oklahoma Sooners, 3-2 (2-0, Big 12)
Def. Texas 45-40
Oklahoma is laughably the Big 12 representative in the RT16 this week after starting out 1-2 with losses to Houston and Ohio State; Oklahoma needed to prove itself the Big 12 favorite with wins against TCU and Texas.  The Sooners did that, but it did little to help the overall perception we have of Oklahoma outside of the undeniable assertion that OU will score with anyone in the conference.  Normally, this leads to Big 12 success, but the biggest challenge for the offensively gifted year-in-and-year-out seems to be Kansas State.  What's that?  The Wildcats happen to visit the Sooners this weekend in Norman where Oklahoma is 0-1 against FBS level competition?  Strange sounding, while Michigan is 6-0 and made its first trip out of Ann Arbor to face, sigh, Rutgers this weekend, Oklahoma has played only two true home games: beating UL Monroe and losing to Ohio State.  Hanging 45 on Texas is little to be proud of, but Oklahoma can breathe easier knowing they did not fall victim to a less talented Longhorns team for the second straight season.
↓(8) #12 Houston Cougars, 5-1 (2-1, American)
Lost @ Navy 40-46
It's not all terrible, Houston, you're still ranked in the RT16 in a week where we just started tossing teams to the curb for fun (i.e. Stanford, Miami, North Carolina, Alabama). Silver lining and honestly lack of comforting aside, Houston's miracle season was derailed but, what is even crazier to the brains, is the Cougars are likely on the outside looking in on the American Championship Game.  Houston now needs Navy to lose twice and this is not last season's American where Houston, Navy, Temple, and Memphis all looked viable threats to win a New Year's Six Bowl (which Houston eventually did).  The Midshipmen play Memphis in Annapolis this upcoming weekend and travel to South Florida the following game, but Navy losing both those contests is unlikely after looking offensively stout against a more talented Houston team.  The Cougars also need to take care of their own business for the rest of the season, so Tom Herman will look to keep the boys confident and motivated without playoff hopes on the table.
↑(12) #11 Ole Miss Admiral Ackbars, 3-2 (1-1, SEX-iest)
BYE
We celebrate our first appearance from one of the SEX-iest teams in Amrerica as Ole Miss used the bye week to leap frog into the top 11.  The number 11, naturally, holds a special place in my heart and no team undeserving will ever be placed into this magnificent slot.  That's right, Ole Miss, you have looked good enough, but played badly enough to deserve to be sitting just outside of the top 10.  Drink up.  The Ackbars travel to Fayetteville to battle with the suddenly disappointing underhoges coming off two defeats to the SEC West bellcows Texas A&M and Alabama.  Expect some fireworks and a high-scoring contest.  Will this finally be the game where Ole Miss is forced to trust Chad Kelly in the red zone??  Kelly's mistakes doomed the Rebels against Buhmuh and Florida State.  Another lackluster showing might have Ole Miss on the outside looking in at the RT16 once more.
↑(11) #10 Nebraska Cornhuskers, 5-0 (2-0, Big Fourteen)
Bye
The Huskers also skated through the bye week unscathed and getting a bump back into the Top 10 after seeing a couple of teams hop over the Huskers.  Nebraska is, objectively, the most suprising undefeated team in the Big Ten to this point (thanks to Penn State for shedding this label from Maryland), but subjectively I'd call them the most surprising undefeated from the Power 5.  Has the schedule been grueling?  No, but this is Nebraska whose penchant last season was flailing late in games.  This year, the Huskers have outscored opponents 78-6 in the fourth quarter this season.  Nebraska and Tommy Armstong Junior will wage war against Indiana in Bloomington this weekend as the Hoosiers follow-up after a grueling game against Ohio State in the Horseshoe….they….Indiana couldn't possible…..couldn't possible beat Nebraska….could they?
<–> (9) #9 Wisconsin, 4-1 (1-1, Big Fourteen)
Bye

Another entry another team on Bye, but Wisconsin was forced to watch as Tennessee fumbled its way ahead of the Badgers…really?  Yeah, sorry cheese heads, but that last statement was not a lie…making it true.  The Badgers are still smoldering from a 14-7 loss to Michigan and just watched JT Barrett look too human against an improved but not impenetrable Indiana defense.  Wisconsin will struggle to score more than 20 against one of the better rush defenses in the country (remember, this is an OSU team which throttled a top-15 Wisconsin team that had Melvin Gordon…they know how to contain the Badgers), but OSU historically struggles in Camp Randall.  College Gameday is traveling up to Wisconsin and all minds should be thinking this is a Buckeye blowout (because Wisconsin's scoring struggles), but expect a close game where the Badgers fight for a spread AND outright victory in a raucous Randall.
↑(10) #8 Tennessee Volunteers, 5-1 (2-1, SEX-iest)
Lost @ #2 Texas A&M 38-45 (2OT)
The Vols watched an undefeated season waltz away in the style of FIVE LOST FUMBLES and SEVEN TURNOVERS in College Station in a game which will be enjoyed long through this week.  It was 28-7 in the third quarter, Tennessee was playing the game with popcorn fingers, and Texas A&M was taking every advantage it could.  Then, something amazing happened and Tennessee remembered it was playing American football; deciding to no longer muff the ball around the field and begin to show why it is a top-1o team.  To lose the turnover battle 3-7 and still turn this game into an overtime contest speaks to how resilient Tennessee is, but this is a reminder that like 2015 Florida State, a team has to be more than resilient or eventually you'll meet that team which will not allow you to comeback.  Tennessee DID NOT find that team this weekend as Texas A&M vomitted away the 21-point advantage and Tennessee stormed into overtime on a missed field goal, but Texas A&M overcame its squandered lead to eek out a double OT victory.  The losing Volunteers still have plenty of playoff hope, but will need a win at home against Alabama on the Third Saturday in October this weekend.
— (7) #7 Alabama Crimson Tide, 6-0 (3-0, SEX-iest)
Def. @ Ar-Kansas 49-30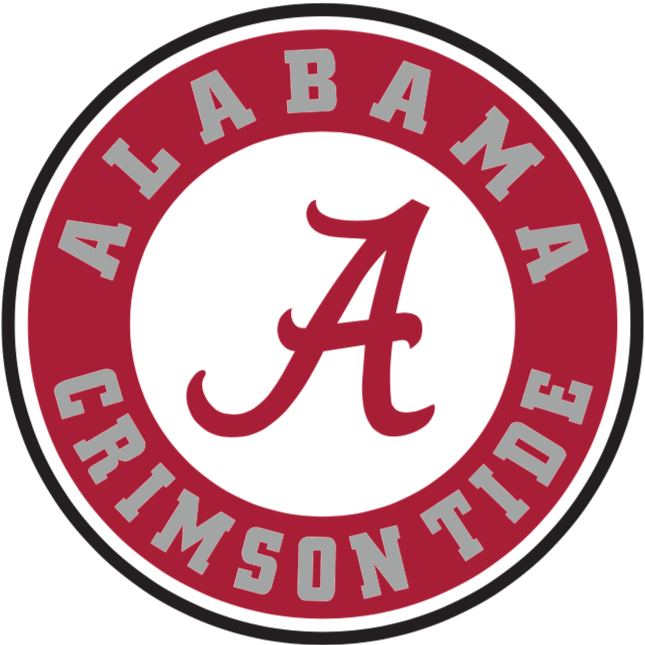 A very strong and well performed road win for an Alabama team which continues to prove itself among the best in the country says everyone ever.  Unfortunately, even I must bow to the Tide and say "kudos!" you beat Ar-Kansas by 19 in a game where the Tide's streak of defensive scoring continued.  Look, it's very clear that this is no longer a coincidence.  Once is an accident, twice is a coincidence, and three times is a pattern.  Well, we have rocketed by 3 times and it is safe to just assume Alabama is getting at least one, but probably two defensive and/or special teams tuddies in big games.  The Tide have made a habit on relying on defense, but it is starting to get to an entirely new level as the games against Ole Miss and Ar-Kansas have featured five non-offensive touchdowns.  Is the offense playing better than most Saban coached teams?  Arguably yes, but when you consider the scores might have looked a lot different without a few timely defensive/special teams plays, Alabama fans should be cautious thinking this team can win DESPITE Saban's marquee defense.  Sacrificing 400 yards passing is a farce for Alabama, but that's life in football.  Teams are not going to play consistently or recruit consistently enough to always be shutting teams down, but the SEC has offered Alabama room to make mistakes and still come away with wins because there is a lack of discipline offensively across the league.  Talent is everywhere, but I expect these high-paid coaches to keep teams far more disciplined than they have.  Alabama travel to Knoxville to face a Tennessee team which offered up a buffet of 7 turnovers to Texas A&M.
↓(4) #6 Louisville Cardinals, 4-1 (2-1, ACC)
BYE
Forced to watch from the sidelines and lick the wounds of a loss to Clemson, Louisville drifts out of the RT16 playoffs and finds itself looking meagerly at a date with Houston which became a whole lot less intriguing after the Cougars limped out of Annapolis after a 46-40 sinking against Navy.  Louisville's Lamar Jackson remains the Heisman front-runner, but Louisville's team goals are looking shaky despite a pretty resume.  Michigan/Ohio State are looking like the better duo to make the playoff (not Louisville and Clemson), but having their date be later in the year might force a similar situation to the Florida-Georgia incident of 2013.  Louisville should steamroll through the rest of the schedule (yes, including against Houston) before falling just short of the playoff.
↑(6) #5 Michigan Wolverines, 6-0 (3-0, Big Fourteen)
Mauled @ Rutgers 78-0
Woah, Michigan beat Rutgers 78-0 when Ohio State only beat them 58-0?  Michigan must be better he wrote sarcastically.  It'll be a few more weeks before anything is decided in the Big Ten, but if there is one thing which needs to be said at this moment before Ohio State or Michigan face an upset prior to The Game it is that if both teams are 11-0 entering that contest, both should be playoff teams.  Watching these teams play makes it crystal clear they are two of the four best teams in the nation and it would be farcical for another 1 loss team to be in the playoff over Michigan or Ohio State.  If Clemson and Washington can stay undefeated then sure, make the OSU-Michigan game a play-in, but it will be tough to watch a 1-loss ACC or Pac-12 team jaunt into the playoff over either one of the Big Fourteen's elite programs regardless of the score or outcome of the date in Columbus after Thanksgiving.  Michigan is back at home (surprise!) to face Illinois in another mauling this weekend.
↑(5) #4 Washington Huskies, 6-0 (3-0, Pac-12)
Def. @ Oregon 70-21
Washington was the unknown in the Pac-12 entering 2016…well, I guess now we know.  After a second consecutive brutalizing of the Pac-12's former bellcows, Washington looks at a schedule packed with beatable teams.  Unfortunately, the three most likely losses all occur on the road with visits to Utah, California, and Washington State looming, but on paper there is no reason why Washington should slip against anyone in the Pac-12.  What looked to be a brutal conference at season's conception now looks like a shadow of its former self with Washington dominating teams left and right, Arizona State, Utah, and Colorado atop the south, and only Washington State posing a true threat to the Huskies in the north.The conference very easily could have only one ranked team by season's end and currently have only one team in consideration for the RT16 (listed here).  The Huskies are on bye this week before Oregon State comes knocking on October 22nd.
— (3) #3 Clemson Tigers, 6-0 (3-0, ACC)
def. @ Boston College 56-10
With Florida State the ever-present threat to Clemson's prefect season and perhaps the ACC's playoff hopes (with both Michigan and Ohio State looking like legitimate Top-4 teams), Clemson is building a Bielema resume against the rest of a smelly conference.  The Tigers were out of Matthew and in the northeast this weekend; furthermore, my lack of knowledge of how a hurricane works makes me believe the rain will have subsided in South Carolina come October 15th.  The Tigers are welcoming North Carolina State to THE REAL DEATH VALLEY this weekend after the Wolfpack sloppily downed Notre Dame in the torrential downpour.  Without little trouble, Clemson will enter the bye week and start preparing for Florida State.
— (2) #2 Texas A&M Eggies, 6-0 (4-0, SEX-iest)
Def. Tennessee 45-38 (2OT)
I considered for a mere moment switching the Eggies with Ohio State for one reason and one reason only: I hate having Ohio State at #1.  The win over Tennessee looks good enough on paper to get away with it and Ohio State's offense stalled versus Indiana in Columbus, but games are not played on paper and the RT16 does not base its rankings on paper.  Every team deserves to coast through a clearly out-manned team, but Texas A&M does not have the right to hand Tennessee an overtime game when the Eggies should have pillaged the Volunteers in College Station long before the halftime break.  Inconsistent play has been the trademark of the SEC already this season and has people talking all sorts of nonsense about Ole Miss being a top-tier talent and Alabama being unstoppable.  Both of those things are true in the SEC, but if these teams play the same unfathomable and incoherent games featuring little discipline and attention to ball control/turnovers then the talented teams outside the SEC (namely Clemson, Ohio State, Michigan, and Washington) will feast on pass-friendly secondaries while keeping the ball out of opposing teams' hands.  Texas A&M is, ON PAPER, a team with the opportunity to play in the college football playoffs, but unless they can shore up the holes then Alabama is going to simply Alabama the Eggies into a turnover-riddled and mistake heavy game on October 22nd which the Tide will win with defensive touchdowns.
— (1) #1 Ohio State Buckeyes, 5-0 (2-0, Big Fourteen)
Def. Indiana 38-17
The game was never in doubt and Ohio State's defense controlled and contained Indiana for 60 minutes.  If you want to see what happens when Ohio State plays mistake-prone football reminiscent of our SEC clashes from the weekend, watch the first half against Indiana.  The second half was more controlled, but the unimaginative and frustrating paly calling which led to the defeat against Michigan State last season popped into focus once more as Ohio State refused to stretch the field against the wind and JT Barrett misexecuted throw after throw for Ohio State's first hiccup of the season.  Unlike other teams, these high-powered and highly-talented schools will not suffer defeats most hiccups, but if Ohio State's offense is as ugly as Saturday then Wisconsin will take advantage in what promises to be a low scoring game regardless of how JT and the offense play.  If Ohio State can break 25, I expect the Buckeyes to be coasting to victory, but this is a Wisconsin team which held Michigan to only 14 points in Ann Arbor.  It's a chance for Ohio State to make another statement, but the Buckeyes will need to have all its offensive weapons going in Camp Randall.