The Real Top 16: Boise Back?
By: Adam Bross
#16 Boise State Broncos, 7-0 (3-0, MW)
Def. BYU 28-27
Boise State is undefeated and has run into some quality opponents along the way despite sitting in the Mountain West Conference.  The Broncs have beaten a Pac-12 team (Washington State) and a Pac-12 punching bag (Oregon State) while beating quality teams in Colorado State and Brigham Young (ps, hoping to roast the Cougars this week). Quarterback Brett Rypien played the Broncos to a nail-biting victory over BYU on the blue last Thursday and subsequently placed himself in the minds of watchers across the country; however, it won't be all fun and games with only the Mountains West looming ahead of Boise State.  A meeting with San Diego State in the Championship Game seems inevitable in the championship (both teams 3-0), but the conference's other team waits over a mile above sea level in Laramie, Wyoming this weekend.
#15 Colorado Buffaloes, 6-2 (4-1, Pac-12)
Def. @ Stanford 10-5
At one point, Stanford was a top-10 team; however, at this point they are nothing more than a 4-3 team which has lost to Colorado, Washington State, and Washington.  While teams have lost to worse opponents, Stanford is still residing in the middle-tier of the Pac-12 North; meanwhile, Colorado is currently tied in the south division of the conference with Utah for first place and only has a second loss because they went to Ann Arbor and gave Michigan the second best fight the Wolverines have been forced to incur this season.  The Buffs have won high-scoring games, low-scoring games, fought against the better teams in the country, and haven't blinked in the face of tough road tests.  Little reason to think UCLA goes to Boulder and wins in altitude this weekend, but Colorado will need to be high-flying and under-control unlike this slopfest in Palo Alto.
#14 North Carolina Tar Heels, 6-2 (4-1, ACC)
Def. @ Virginia 35-14
Last weekend's win over Miami led North Carolina to pop back into the RT16, then someone stole my laptop and I lost all my work on the article and I felt forced to allow a week go by where the people knew nothing of who the better teams in the country were.  Well, with a road victory against conference opponent Virginia ( bad team), the Tar Heels were able to cling to a spot in the rankings and even leap ahead one spot.  Mitch Trubinsky is back on the right side of the road and driving with speed toward an outside shot at the O'Brien award and ACC POY.  Will he ever reach it?  Not with Lamar Jackson throwing for 300+ in the first half.  Either way, the Tar Heels are the biggest threat to Clemson losing out on the ACC title (since the Tigers have to lose twice to miss he championship game which, honestly, is not going to happen) and still maintain a Mitch Trubinsky-winning-the-Heisman shot at the playoff.
#13 Western Michigan Broncos, 8-0 (4-0, MAC)
def. Eastern Michigan 45-31
A disappointing outing for the Broncos with a spread loss this weekend to hapless Eastern Michigan in Kalamazoo.  It's a nice problem to have if you're Western Michigan or one of the eighteen people who both read this blog and cheer on the Broncs; you know, measuring your success as spread wins/losses rather than overall wins and losses.  Little reason to expect Zach Terrell and company to be approaching the rest of the season any other way until a possible New Year's Six game.  For that to happen, Western Michigan needs not only win out, but also pray for a Boise State loss.  One of the better opportunities for a BSU meltdown comes at 7,220 feet against Wyoming.  Western Michigan, on the other hand, should steamroll Ball State in Jerry Gergich's favorite town: Muncie, Indiana.
#12 Oklahoma Sooners, 5-2 (4-0, Big 12)
Def. @ Texas Tech 66-59
It wasn't a dream game and I'm sure Bob Stoops is gawking the 854 yards his team both surrendered and needed to defeat the Red Raiders in Lubbock last weekend.  Giving up 734 passing yards is never (under any circumstances) a good idea and without the +2 turnover margin this likely becomes Oklahoma's third loss of the season…three…..like what the Sooners were ranked entering the season.  With Baylor and West Virginia continuing to succeed (i.e. be undefeated), OU is no longer the braintrust's favorite to win the Big-12, especially after an all-around atrocious defensive performance.  My peewee team could threaten 854 yards against Tech's defense, so we're taking the victory with a grain of salt and allowing Oklahoma an "oops" and only dropping them 4 spots from where they were supposed to be ranked last week.
#11 Auburn Tigers, 5-2 (3-1, SEX-iest)
Def. Ar-Kansas 56-3
With this mauling, the Auburn Tigers officially ended the Underhoge era by giving Ar-Kansas its third loss of the season as road underdoges compared to just a single win.  Auburn has completely turned around its season after a not-even-that-disappointing beginning where Gus Malzahn was appearing to be the hottest seat in America (Les Miles proved us wrong in that regard) and there was no chance the offense would ever get going again.  Now?  Auburn seems liable to make a final stand against Alabama at the end of the season with a defense built for stopping the run and an offense able to both score and play a clean game with no turnovers.  Creating tantamount…amount of running room against the Tide will be difficult.  Why are we focusing so far ahead?  The Auburn schedule until Alabama reads Vanderbilt….Georgia….and Alabama A&M.
#10 Nebraska Corn Huskers, 7-0 (4-0, Big Fourteen)
Def. Purdue 27-14
A tale of two halves for Nebraska against Purdue last weekend, but nothing has changed about this team over the course of 7 games and 8 weeks.  If Tommy Armstrong plays well, whole team does well.  If Tommy Armstrong plays bad, whole team does bad…and we've seen things for Nebraska go very, very bad over the last two years with Armstrong as the undisputed QB.  Tommy is the most explosive QB in the conference (yes, including JT Barrett) and makes plays very few others across the nation can; however, Armstrong can also be a liability when he tries to let his talent go too far.  It will never cost Nebraska against a Purdue in Lincoln, but we saw what unbearable mistakes can do with Ohio State in Happy Valley.  Nebraska has enough talent to win the West, but plays Wisconsin and Ohio State on the road the next two weeks…they'll need Taj to play very, very well.
#9 Wisconsin Badgers, 5-2 (2-2, Big Fourteen)
Def. Iowa 17-9
In what is consistently the biggest slugfest in the Big Ten, Wisconsin overwhelmed Iowa.  These two teams rarely play each other to a shootout and this year's edition was no different, but Wisconsin held firmly to its hopes for a Big Ten West title while Iowa takes a step away from the picture focused almost entirely on Nebraska; however, the Huskers have to visit these Badgers in Madison this weekend and with the way Wisconsin has played in the spotlight this season; there is little reason to suspect Paul Chryst and company will come out any slower than they did against Ohio State.  Purdue had moderate success moving the ball in the first half and any Husker mistakes will be taken advantage of; needless to say, Wisconsin should be a sizable favorite to beat Nebraska at home with Nebraska showing its first signs of struggle the past two weeks against lower tier teams.
#8 West Virginia Mountaineers, 6-0 (3-0, Big 12)
WVU becomes the first team from the Big-12 to officially grace the RT10, but that is due to the fraudulent actions of Briantrust members last week culminating in no rankings at all.  The Mountaineers have impressed over the last two weeks in a way most Big 12 teams have nightmares of: defensively.  Texas Tech and TCU scored a combined 27 points AND West Virginia still rolled to 82 in those contests.  Dana Holgorsen's bunch looks like the first legitimate contender fielded from the conference since the playoff era began (a team which can play on both sides of the ball and in the trenches with the other conferences).  The Mountaineers are unanimous favorites to win the conference at this juncture with Oklahoma's defense driveling away while teams put up 854 yards and Baylor playing, naturally, the softest schedule imaginable through the first six games (I guess they could have scheduled Kansas State or Texas instead of Oklahoma State).  Regardless, West Virginia plays in Stillwater this weekend which is just another good team trying to measure itself and measure up WVU.
#7 Texas A&M Eggies, 6-1 (4-1, SEX-iest)
Lost #1 Alabama 14-33
The endless run of Alabama non-offensive touchdowns is staggering, but it no longer constitutes surprising.  I feel like I should've reached this point a long time ago, but back then I was naive and thought football worked a certain way.  If anything, Nick Saban is continued proof that college football doesn't have a script or a plan.  It is utter anarchy and he knows precisely how to make every single piece of this chaos working perfectly to his plan.  Texas A&M looked nothing like a top ten football team after it took the lead last weekend and Trevor Knight appeared afraid of something whether it be his unanswered Craigslist Missed Connection with Katy Perry or facing an Alabama defense which has scored 12 touchdowns and only allowed 13 on the season.  A ratio like that makes nothing short of a juggernaut.  A&M's season is far from lost and they still have motivation and momentum to play hard; however, the window for teams to catch Bama in the SEX-iest Conference in America is closing quickly.
#6 Louisville Cardinals, 6-1 (3-1, ACC)
Def. NC State 54-13
We learned a valuable lesson: Louisville is unstoppable at home.  Florida State tried to show us, but no one listen; instead, the Cardinals lost a single game on the road to a top three opponent and everyone forgets the thrashing the Cardinals delivered in Papa John's!  And rightfully so as the games at season's end are not played at home.  A win over Houston on the road is even is looking less than impressive as the Cougars are out of the New Year's Six race (And likely the America Conference Race).  For statistical purposes, the Cardinals are winning at home by 37 points per.  Only a 10-point hiccup at Duke allows that number to slide beneath forty (for comparison's sake, the Cardinals wins are by an average of 32.5 on the road, but those are games against .500 Syracuse and 2-5 Marshall…meanwhile, if you throw in a -6, the average margin of victory turns south to under 20).  Louisville has three road tilts left this season, but the only true threat to Louisville's New Year's Six chances are visits to Wake Forest and the aforementioned Houston contest looking bleaker for Louisville by the week.
#5 Ohio State Buckeyes, 6-1 (3-1, Big Fourteen)
Lost Penn State 21-24
There is never an excuse to lose, and Ohio State has been praised here and elsewhere for its poise and fundamentals for this entire season; however, the lack of special teams discipline is the only reason Ohio State sits at 6-1 rather than 7-0.  The Buckeyes fell apart at the end of the game and the offensive line needs some hugs; meanwhile, the special teams units need to run for the next 96 hours until its time to prepare for the game against Northwestern in the Horseshoe with season.  Many teams would falter when facing back-to-back night games against opponents fresh off the bye week, but Ohio State fans should shutter when thinking exactly how everything transpired against an out-manned Penn State team.  Kudos to the Lions for making magnificent plays, but a more disciplined and fundamental effort by Ohio State gives this game to the Buckeyes, no questions asked.  At least there's the Oklahoma Oxymoron created by the playoff committee last season….
#4 Clemson Tigers, 7-0 (4-0, ACC)
Bye
After a hiccup last weekend against North Carolina State (and I hate using the word "should" because it never makes sense that you "should have lost" when you didn't….however) that the Tigers should have lost; Clemson was starring down the barrel of a #6 ranking and considerations for dropping behind even Wisconsin and Louisville, but a week to let the loss quell made us realize we had abandoned some of our principles and relied too heavily on a single game.  Clemson still notched a win against Louisville and the win in Jordan-Hare against Auburn is looking better than ever.  The Tigers have astutely saved its worse performances for Troy and North Carolina State, but there is no margin for error against Florida State in the game ACC fans have been anticipating all season.  College Gameday comes liv…..what?
#3 Michigan Wolverines, 7-0 (4-0, Big Fourteen)
Def. Illinois 41-8
Jim Harbaugh is currently doing his best to make everyone forget Ohio State, and it worked out perfectly that the Buckeyes fell to an opponent Michigan has already slaughtered.  While many neglect to mention Michigan's games against Penn State and Wisconsin (who OSU played lost to and played brutally close respectively) both came inside the Big House; there is no denying Michigan has taken over as the indisputable favorites to win the Big Ten and make the college football playoff.  That comes knowing Ohio State still has Nebraska on the schedule while the Machine Gun Wielding Worms need only to hurdle a 2-5 Michigan State team with 0 conference wins before The Game in Columbus.  Sure, a road trip to Iowa sounds difficult and Indiana has proven to be a little nuisance at times AND that game comes a week before Ohio State, so Harbaugh will likely take half the week to prep for the Bucks, but all-in-all, Michigan seems to have a jaunt until it plays in Columbus.  The Wolverines have been easily a top-4 team this season and would have been ranked in the playoff by the Braintrust even if Ohio State had survived Penn State.
#2 Washington Huskies, 7-0 (4-0, Pac-12)
Def. Oregon State 41-17
…live from Salt Lake City, Utah!  Just as we suspected all season, when Florida State and Clemson are facing off in Tallahassee (recall, many verbalized a chance both those teams would make the playoff this season), College Gameday is heading west for Washington traveling to Utah.  Honestly, the boys are overdue for a west coast trip, but who knew it would feature these two teams?  Well, with Washington leading the north and Utah leading the south; what better reason?  This might be a conference championship preview and represents the best chance of Washington slipping out of first place and offering the title to Apple Cup opponent Wazzu prior to their tilt on November 25th in Pullman.  Jake Browning has impressed at every turn and for now Washington is the best chance for a Pac-12 representative in the playoff.  Only Utah can derail the Huskies.  Utah just surrendered 45 to UCLA….a betting man takes Washington, even against the ten point spread.
#1 Alabama Crimson Tide, 8-0 (5-0, SEX-iest)
Def. Texas A&M 33-14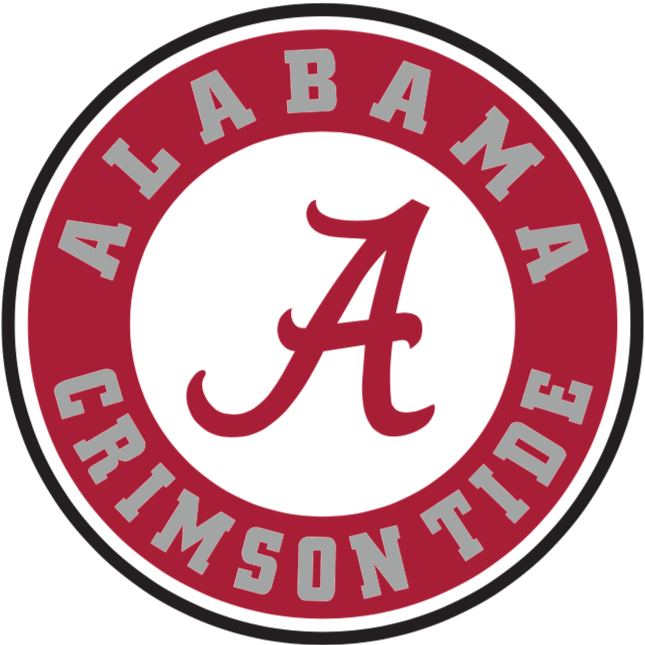 There seems to be so little to say about Alabama at this point as the script has gotten repetitive.  The Tide seem to play it close in the first half and might even let them hang around in the third quarter, but eventually they'll grab a defensive score and the jets are on.  Is that how every game has gone?  No and it would likely be safe to wager a minority have, but it feels that way.  Alabama's defense is dominating, but there are still outliers like Ole Miss and Arkansas where teams piled up points and yards on the Tide; however, the constant is the team's ability to takeaway the ball and, inevitably, turn at least one of those takeaways into points.  The Tide are finally on bye this week, but you can expect College Gameday back with Buhmuh when they visit LSU in Baton Rouge the following weekend.  Conference play makes it illogical to ever say it's "Alabama and everyone else" (after all, what if I'm a psychopath and it turns out the Big 12 is the nation's best conference?  Something which cannot be proven until Bowl Season), but it seems fair to think the SEC is divided into tiers that have Alabama resting alone at the top.