The Real Top 16: Enter #MACtion
By: Adam Bross
I've decided to give you a few more definitions with the release of the first College Football Playoff Rankings that will help you to argue and bicker with people over Thanksgiving because the day is for four things: Food, Family, Football, and Fighting in that order.  Without further ado, I present some vocab terms you've already read, but will now have explained for your exam at the end of the year:
The Florida-Georgia Debacle of 2012: Back in the eerie past known as the "BCS Era", only two teams played with National Championship aspirations after everything was completed.  In 2012, Alabama and Georgia were ranked 2 and 3 respectively and both wanted the opportunity to decimate Notre Dame and continue the SEC's National Championship streak.  Alabama beat Georgia when Chris Conley mistakenly caught a deflected pass at the five and time ran out before Georgia could run another play…Georgia was subsequently dropped BEHIND Florida in the rankings and did not even get to play in the Sugar Bowl where Florida  lost to Louisville the last time Louisville football was extremely relevant.  This debacle shows the blasphemy in punishing teams for losing a championship game and also the absurdity of being ranked behind a team you beat earlier in the season because of that extra game's loss.
The Oklahoma Oxymoron of 2015: Being a sour Ohio State fan will get you nowhere, but last season's playoff laid the precedent that the committee isn't interested in picking the four best teams in the country, because that would have almost objectively included Ohio State; rather, they continued the impact of conferences and conference championships in a system where a power conference must be left out no matter what.  The true oddity in this incident was that Ohio State and Oklahoma finished with the same record while Ohio State lost to a very good (#4 ranked at year's end) Michigan State team while Oklahoma lost to shitty Texas; therefore, Ohio State was punished for losing to a better team later in the year…something which the braintrust finds nonsensical.
With those nice additions to your college football acumen, you can begin planning your argument with dad at Thanksgiving.
#16 Wyoming Cowboys, 6-2 (4-0 MW)
Def. #16 Boise State 30-28
**DISCLAIMER**
This week is a celebration of my summer and my life in Wyoming; therefore, I am dedicating the #16 ranking this week to my favorite state.  To celebrate further, here is a picture of Wyoming:
#15 Western Michigan Broncos, 9-0 (5-0, MAC)
Def. Ball State 52-20 on Tuesday after Bye
A 17.5 spread for the Broncs in conference?  Please, the Broncos rolled behind their high-scoring offense to a 32 point victory over Ball State in a weekly domination of the Mid-American by current kings of the Group of Five Conferences.  Western Michigan should be unanimously selected as the representative for the Group of Five into the New Year's Six Bowls with wins over Big Ten teams Northwestern and Illinois (I know, not the best…but…better than losing) on the resume along with MACtion domination.  Western Michigan continues the classic Tuesday MACtion schedule against Kent State in Kent, Ohio on the 8th.  With the game being televised on ESPN2, it offers viewers a rare opportunity to see a team which has flown so beneath the radar that they've successfully invaded the RT16 without detection (just kidding!)  Currently, the playoff committee thinks it funny to keep the Broncos only one spot ahead of Boise State, but I wonder if fears of PJ Fleck leaving at year's end has the committee wanting to avoid a blowout from a coach-less Group of Five team come late December.
#14 Penn State Nittany Lions, 6-2 (4-1, Big Fourteen)
Def. Purdue 62-24
Penn State finally has found an offense under James Franklin after a few years of sputtering with Christian Hackenburg at the controls.  A win over the flaming dog pile of a program known by locals as "Purdue" is nothing to write home to mama about; however, Penn State in recent years would have been hard-pressed to score 62 on the local peewee squad despite being led by the former #1 rated pocket passer in the country.  The last time Penn State scored 50+ they were coached by Joe Paterno and Donald Trump's chances of winning a party nomination were laughable; that is to say, it was Saturday October 10th, 2009 against powerhouse Eastern Illinois.  The last Big Ten performance with 50+ came in the fall of 2005 on October 22nd in a 63-  10 drubbing of hapless Illinois.  Penn State will likely be on the outside looking in at the New Year's Six (they can't take only Big Ten and SEC teams), but can have an incredibly successful season with only garbage left on the schedule including a home date with Iowa this weekend in Happy Valley.
#13 Colorado Buffaloes, 6-2 (4-1, Pac-12)
Bye
Colorado slid through the Bye week with swagger after an incredibly successful first 2/3 of the season.  The Buffs never pretended to compete in the Pac-12 until this season and are a win away from matching their win total in their Pac-12 history after a vomit-inducing 5-40 record from 2011-2015.  The Buffs totals in-conference have never allowed for a bowl berth; however, this season included a non-conference loss at Michigan; nevertheless, Colorado is bowl eligible for the first time as a Pac-12 member and for the first time since 2007 when they played, huh, Alabama in the illustrious Independence Bowl.  Note: the Buffs lost that game 24-30.  The remodeled Buffaloes welcome in UCLA for a Pac-12 South challenge.  Previous success in conference is based on three wins over the Pac-12 North, but does include victories over Stanford and Oregon.  USC and Arizona State both challenged Colorado, and the former handed the Buffs their only conference loss of the season, but that game was in California.  Much like Wyoming, Colorado enjoys an altitude advantage in Boulder and the increase in talent this season shows how formidable an altitude-aided team can be in home games (Colorado is +65 in its two home conference games this season).
#12 Utah Utes, 7-2 (4-2, Pac-12)
Lost #2 Washington 24-31
Despite a loss to Washington, the Utes impressed enough to earn a return to the RT16 following a month's absence, that's right, no October rankings for Utah this season, but the Utes are still our favorite to win the Pac-12 South (even down a game from Colorado).  The Utes are on bye this week before traveling to Tempe to play Arizona State.  Utah has very tough final three games with the Tempe visit, Oregon coming to Salt Lake City (although, it is bad Oregon), and a finale for what might be all the Pac-12 South marbles in Boulder, Colorado against the already mentioned (like…one entry up) Buffaloes.  If you projected your 2016 Pac-12 South to reveal Colorado playing Utah in the final week for a chance at the Championship with Arizona and UCLA battling for the basement as the season rolls then I have much respect for your predictive mind.
#11 Oklahoma Sooners, 6-2 (5-0, Big 12)
Def. Kansas 56-3
It's hard to describe the feeling of watching Kansas football, but the pure adrenaline of seeing a team play each and every week so consistently drives me to strive for such a consistency in my writing I feel I have almost attained; however, I abhor the idea that my writing is at a Kansas level of product.  Oklahoma thrashed the Jaybirds in one of the more unsurprising results of the season and, despite thoughts long into the night, cannot be punished by the Braintrust.  A 53-point throttling at the FBS level in conference play never deserves punishment, but do we really reward a team for besting the team stuck in the deepest doldrums and most severe neutral known to the college football world?  With Houston's recent slide, Oklahoma's resume is beginning to uglier and uglier each week, but sits in the driver's seat in the Big 12 following West Virginia/Baylor losing in upset specials this past week.  The Sooners get one last tune up with Iowa State in Ames on a Thurs……on a Thursday night.  Ames?  Thursday?  Without hesitation, pick Iowa State to cover the -21.  After tonight, the Sooners alternate Home-Road-Home with Baylor, West Virginia, and Oklahoma State (the latter two sitting just outside these rankings at roughly 20 and 18 respectively.)
#10 Auburn Tigers, 6-2 (4-1, SEX-iest)
Def. Ole Miss 40-29
Our first appearance from the SEX-iest Conference in America as the Auburn Tigers offense is officially back on the map only a month after Gus Malzahn got Alduin-ed by the referees overturning LSU's game winning touchdown and the disastrous few weeks Les Miles was forced to endure culminating in his dismissal from LSU.  For the first time since the kick-six, Auburn is looking like a viable threat to Alabama's SEC West domination and Malzahn is gallivanting toward an SEC Coach of the Year award even though he was looking fire-able after the first three weeks (where he lost close games to teams ranked inside our Top 7).  The defense surrendering 570 yards to Ole Miss is disconcerting, but if the Tigers can take care of the ball and not break too often against the Tide, Alabama is going to have its hands full trying to outscore a revitalized Tiger running game (but we've seen running games fail time-after-time against Buhmuh).  Not looking too far ahead, the Tigers have to deal with bottom feeder Vanderbilt in Jordan-Hare this weekend.
#9 Nebraska Corn Huskers, 7-1 (4-1, Big Fourteen)
Lost #9 Wisconsin 17-23
A humiliating end to a phenomenal game to watch as Wisconsin's kicker muffed a PAT attempt in overtime, but the Husker offense stumbled and vomited everywhere in overtime as Wisconsin's defense refused to allow a second overtime home loss to occur inside Camp Randall.  Tommy Armstrong was awful in the first half, but turned it on to keep Nebraska's undefeated aspirations alive and the defense played out of its mind to aid in the comeback, but Wisconsin's glaring offensive mistakes also helped as both of the team's Quarterbacks threw unforgivably bad interceptions to Nebraska's Nathan Gerry in the second half.  Nebraska's season is far from lost and a win against Ohio State will have the Big Ten West leading Huskers looking dead in the eyes of the Big Ten Championship Game (by winning out against an unbelievably awful schedule) and a possible playoff appearance.  They'll have to earn it, but with how Ohio State's offense is playing, there is definitely opportunity for the upset.
#8 Wisconsin Badgers, 6-2 (3-2, Big Fourteen)
Def. #10 Nebraska 23-17
Everything written about Nebraska can be re-inserted here for Wisconsin following another Big Ten classic game in Camp Randall Stadium.  Both teams impressed and reminded why the Big Ten West is not to be trifled with for the first time since the realignment with Michigan, Michigan State, and Ohio State landing in the East.  The decision to bench Alex Hornibrook was, in a word, distasteful, but Paul Chryst was deemed a master of coaching only a few weeks back against the Buckeys, so we can trust his judgment unquestioned.  Sarcasm aside, Hornibrook, as a redshirt freshman, needs nothing less than he needs a fellow QB peering over his shoulder at every snap.  It nearly cost the Badgers the game against Nebraska and it comes only two weeks after Hornibrook played brilliantly against stout competition (Ohio State).  Now, each and every pass might land him on the bench AND HIS REPLACEMENT CAME INTO THE GAME AND THREW A HORRIFIC INTERCEPTION.  Paul Chryst should have learned a lesson from other teams' past and know that these young QB's don't need the external pressure of another guy breathing down his neck. Wisconsin survived its gauntlet at 3-2 which is about as good as they could have expected and an easier portion of the schedules gets underway starting with Northwestern at Ryan Field on Saturday.
#7 Texas A&M Eggies, 7-1 (3-1, SEX-iest)
Def. New Mexico State 52-10
I considered using this alotted space to rant on the College Football Playoff rankings, but Texas A&M does not deserve to have its space invaded because other people are hilarious and numbskulls.  Is placing Texas A&M #4 the worst decision?  No and under other circumstances I might even consider it acceptable, but here's some factors to consider when ranking the Aggies: It's supposed super strength of schedule has watched a Tennessee team it allowed to force overtime with 7 turnovers in a game just lost to terrible South Carolina, UCLA is 1-4 in the Pac-12, Ar-Kansas has lost three of its last four to stumble to 5-3.  Sure, the Auburn win looks great and Alabama is clearly the dominant force in the SEC still, but I refuse to rank the SEC over other power conference teams with great wins this season for simply beating the SEC.  It's the same problem I have year-after-year with the conference, but this season is the first where I believed the SEC's non-conference opponents were extremely challenging, but UCLA and USC are not what we believed them to be, Florida State has three more losses than many suspected they would, and North Carolina is just an ACC Coastal team trying to make it through life.  Texas A&M should not be ranked ahead of Washington based on SOS, because the Huskies can never bridge that gap if you assume, correctly, that Washington's stronger games are behin it.
#6 Louisville Cardinals, 7-1 (5-1, ACC)
Def. Virginia 32-25
Louisville and Ohio State both escape after feeling the same pang of fear with bad conference foes this weekend, but the teams ranked just behind these teams either have no argument or played New Mexico State; therefore, they could not take advantage of lackluster performances.  For the first time other than Clemson, Louisville's defense looked susceptible against the Hoo's and Lamar Jackson's Heisman campaign was stagnated and losing momentum at halftime, but the gifted Quarterback helped and guided his team from despair to victory even with Virginia taking a late lead in the fourth quarter.  Louisville's two worst performances have come against the two worst teams in the Coastal, and the Coastal is miserable so those are two miserable teams, but talent was enough to save the Cardinals from disaster in those contests.  The same is true against a brutally bad Boston College team in Chestnut Hill on Saturday.
#5 Ohio State Buckeyes, 7-1 (4-1, Big Fourteen)
Def. Northwestern 24-20
Northwestern began playing well a few weeks back, but the offensive struggles for the Buckeyes is inexcusable and must be corrected for this weekend's game against Nebraska because if Tommy Armstrong is playing well then it is gonig to be a rude awakening in Columbus which might culminate in Urban Meyer's first season with single digit wins.  The continued theory that JT Barrett QB draws are gonig to be better for anything other than 3rd and 2 or shorter needs to be accepted by the OSU coaching staff.  From my vantage point in the South endzone, Ohio State threw one pass longer than twenty-five yards in the entire game and it was incomplete as JT disgustingly underthrew an open Terry McLaurin.  JT has consistently succeeded down the field before, including against Oklahoma earlier this season, but Ohio State seems content to try and nickel/dime down the field while JT carries the ball one less time than bellcow Mike Weber and his 6.2 ypc.  JT did manage 5.5 per tote, but only thanks to a 35 yard scamper which sealed the game on the Bucks final drive.  Before that, the OSU QB had a vomit-inducing 3 yards per carry.  If Ohio State cannot force teams to play safety coverage and keep the box cleaner for the ball carriers, it will begin the slide in these rankings even if the defense continues to play well enough to win games.  No Top-5 team has ever looked as pitiful offensively, but we're going to chalk this game up as an accident.
#4 Clemson Tigers, 8-0 (5-0, ACC)
Def. Florida State 37-34
Florida State played with grit and showed skill across the board, but in the end the Seminoles were proven to just be a worse team this season than many people imagined following the comeback against Ole Miss.  The only reason I say this is because a good team can play four quarters with Clemson, but any team worth the weight given to Florida State earlier in the season wins this game because Clemson left the door open in every way in the third quarter.  Dalvin Cook played extremely well, but the final quarter the Seminoles defense laid an egg and the offense was unable to keep the momentum following Cook's two massive runs late in the third.  Around the game, people will compliment Clemson's perseverance and toughness for hanging with the Noles when they could have folded after Cook thrashed them for 113 yards on two plays and Clemson deserves credit for coming back in the fourth to outscore FSU 17-6, but only because Florida State left the door open could Clemson walk through.  It should sting FSU fans more than the world is letting on because they should understand Florida State looked like the better team for three quarters, but games aren't played for three quarters and Jimbo's boys did not finish the game.
#3 Michigan Wolverines, 8-0 (5-0, Big Fourteen)
Def. Michigan State 32-23
The Wolverines survived the last "hurdle" before The Game following Thanksgiving and looked impressive doing it.  Michigan State scored a couple of garbage time fourth quarter touchdowns which almost makes the game look close, but the Wolverines dominated and decimated Michigan State for the first 50 minutes of this game.  After Michigan State's game-opening touchdown, the only other chance to force the Wolverines to sweat came in the third quarter when Sparty was gifted a first down at the one with a phantom pass interference, but failed to score when the game was still within breathing distance in the third quarter (27-10).  That possession was a microcosm of Michigan's defensive dominance which surrendered only 267 yards until Michigan State's late fourth quarter drives.  Had Sparty mustered one of those drives earlier, it would've looked threatening.  Don't be too fooled by what was almost a one score final score (Jabrill Peppers returned the Michigan State attempt for a 2pt conversion with one second left), Michigan owned the rivalry game this season.
#2 Washington Huskies, 8-0 (5-0, Pac-12)

Def. Utah 31-24
If Texas A&M is truly ranked ahead of Utah because of strength of schedule, as told by the CFPC Chair, then the Eggies are safely in the playoff if they win out from here.  Washington has played by far its toughest games of the season (vs Stanford, @ Oregon, and @ Utah) already and shined in all three; nonetheless, the Huskies are "on the outside looking in" at the playoff in the saddest attempt at drama any committee has ever attempted.  The top four of college football at this moment is the easiest decision in America as all four have dominated strong in-conference opposition and owned the non-conference schedule placed before them.  If the College Football Playoff Committee believes Washington's schedule is not top-4 worthy at this point they are either a) giving far too much credit to the nation's worst pirate and Washington State or b) have no plans to put Washington into the playoff at all.  This weekend the Huskies play a sneaky game against a Cal team with upsets against Texas and Utah on the resume already.
#1 Alabama Crimson Tide, 8-0 (5-0, SEX-iest)
BYE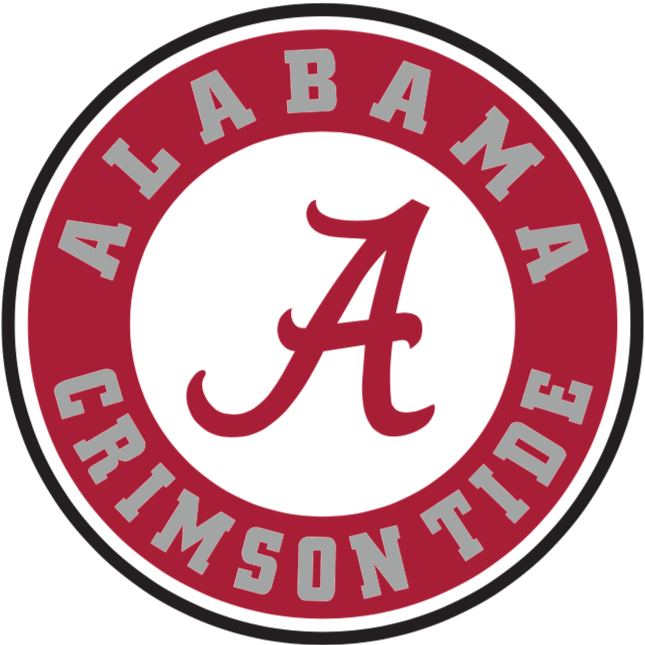 The Tide snuck in a bye week ahead of the christened (by ESPN) "mega-clash" against Louisiana State on Saturday.  Unsurprisingly, College Gameday is headed to Baton Rouge for the colossal converging of an LSU team which rediscovered offense under Ed Orgeron and the defense has been stout all season.  Alabama has dominated the SEC in surprising fashion other than the near miss against Ole Miss and Jalen Hurts is playing a very strong game, but if LSU can be responsible with the football and do its best to not turn the ball over and let Alabama's defense make a game-altering play.  This game will be decided the same the Ar-Kansas game will be: disciplined offensive play.  Ar-Kansas turned the ball over and let Alabama's defense be a playmaker.  LSU needs to avoid that or this will be another two score blowout for the Tide.